Detalhes

Escrito por

Guilherme

Categoria: Páginas PEPI
Acessos: 6042
CONVITE para o Lançamento do Livro: "Macroeconomia da Estagnação Brasileira"
Neste vídeo da série Publicações, Luiz Fernando de Paula, professor do Instituto de Economia da UFRJ, convida para o lançamento do seu livro em coautoria com José Luís Oreiro (UnB) "Macroeconomia da Estagnação Brasileira", no dia 15 de abril 2021, 5ª. feira, às18hs, com participação de Luiz C. Bresser-Pereira (FGV-SP), Paulo Gala (FGV-SP) e Carmem Feijó (UFF).
O Lançamento do Livro será transmitido em ambiente webnar: https://youtu.be/ikUAoJ8vlgI​
Detalhes

Escrito por

Guilherme

Categoria: Páginas PEPI
Acessos: 4681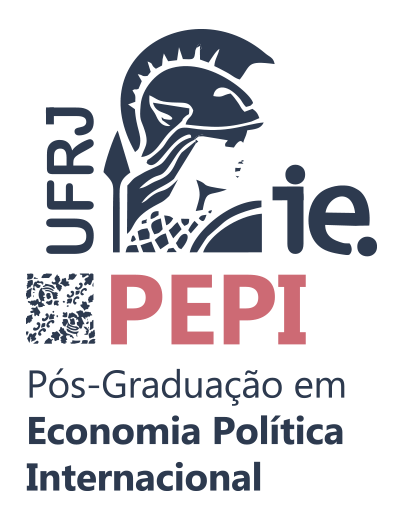 REVISTAS PEPI IE-UFRJ
---
Detalhes

Escrito por

Guilherme

Categoria: Páginas PEPI
Acessos: 2413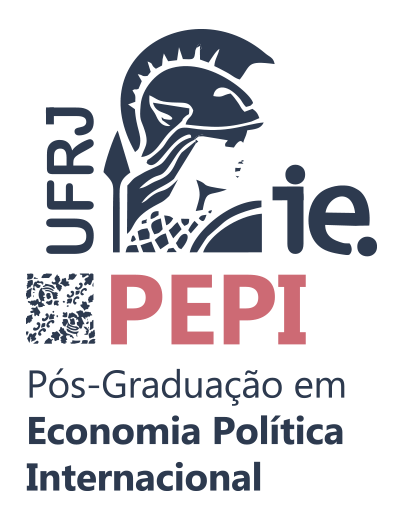 ENGLISH PEPI IE-UFRJ
OVERVIEW
OVERVIEW
The International Political Economy Program (PEPI) has the objective of providing stricto sensu academic background to researches and professors. From a methodology that emphasizes the historic comprehension of the operation of the contemporary interstate system, PEPI academic efforts point to the study of the relations between the flows of capital, industry, technology, natural resources, territory, war and diplomacy, organically articulating History, Economic Science, Geopolitics, and International Relations studies. PEPI-IE-UFRJ congregates Doctored professors with studies in several fields, but interdisciplinaryly articulated in the group effort for the production of analysis and interpretations that encompass several dimensions of the International Political Economy. PEPI is a program ruled by CAPES International Relations area.
Detalhes

Escrito por

Guilherme

Categoria: Páginas PEPI
Acessos: 1334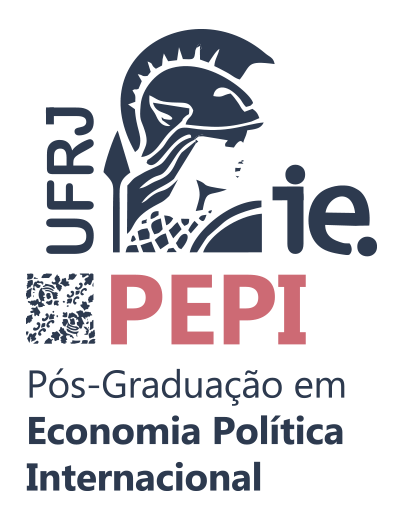 CONVÊNIOS INTERNACIONAIS PEPI IE-UFRJ
---

No âmbito da cooperação internacional, o PEPI vem registrando fluxo sistemático de estudantes e participações e iniciativas acadêmicas conjuntas de docentes através de convênios e parcerias com diversas universidades da América Latina e do mundo (listadas a seguir).

O PEPI participa como membro associado do Programa de Mestrado interinstitucional europeu "LAGLOBE - Latin America and Europe in the Global World", Erasmus Mundus (Plus) Joint Master Degree Program criado em 2018, que tem como instituições gestoras a Stockholm University (Institute of Latin American Studies), a Universidade de Salamanca (Instituto Iberoamericano) e a Universidade de Paris 3 (IHEAL). Sítio do Programa na internet disponível em: https://www.masterlaglobe.eu/


Universidades e instituições internacionais com as quais o PEPI possui convênio:

- Universidad Nacional de Rosário (Argentina)

- Universidad Nacional de Moreno (UNM) – Argentina

- Instituto de Altos Estudos Nacionais (IAEN) (Equador)

- The Arrighi Center for Global Studies - John Hopkins University (EUA)

- Universidade Paris 3 – Institut des Hautes Études de l'Amérique Latine - IHEAL (França)

- Corvinus University of Budapest (Hungria)

- Columbia University (EUA)

- Corvinus University of Budapest (Hungria)

- Universidade de Coimbra (Portugal)

- VSB – Technical University of Ostrava (Republica Tcheca)

- University of Economics de Praga (República Tcheca)

- Stockholm University – Institute of Latin American Studies (Suécia)
Detalhes

Escrito por

Guilherme

Categoria: Páginas PEPI
Acessos: 2457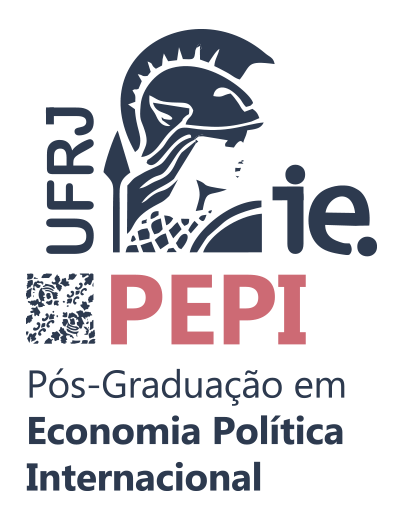 ESPAÑOL PEPI IE-UFRJ
PRESENTACIÓN
PRESENTACIÓN
El Programa de Posgrado en Economía Política Internacional (PEPI), en actividad desde 2009, fue creado en el primer semestre de 2008 por el Grupo de Investigación en Economía Política (GEP) en colaboración con el Núcleo de Estudios Internacionales (NEI), ambos del Instituto de Economía de la Universidad Federal de Rio Janeiro (IE-UFRJ). La concepción académica y la propuesta para la creación del PEPI tuvieron origen en un largo proceso de investigación y elaboración teórica desarrollado por los docentes del GEP, en la década de los 80, a partir del trabajo pionero de la profesora Maria da Conceição Tavares "La retomada de la hegemonía norteamericana", publicado en Revista de Economía Política (REP) en 1985.
Ese ensayo sirvió de punto de partida para una gran investigación internacional y comparada sobre "crisis, transformaciones y ajustes político-económicos en el mundo en los años 80", financiada por el PNUD y la Fundación Ford. El estudio se realizó entre 1986 y 1990, bajo la dirección del GEP y con la participación de algunos profesores del Instituto de Economía de la UNICAMP. El apoyo financiero internacional permitió un trabajo de campo y un análisis comparativo más profundo sobre las experiencias nacionales de Japón y Corea en Asia; de Italia y España, en Europa; y de Brasil, Chile y Argentina, en América del Sur; culminando con un gran Seminario Internacional sobre "La Crisis y el Ajuste Mundial de los 80", realizado en Río de Janeiro, en noviembre de 1990, con la participación de representantes de todos los países involucrados. Luego, el analisis se extendió a Estados Unidos en la primera mitad de los 90 y, enseguida, se desarrolló sistemáticamente en Brasil durante más de una década, propiciando la producción de una serie editorial que retrata, en su totalidad, paso a paso, la trayectoria de la investigación y las ideas que están en el origen intelectual y político del PEPI.
A lo largo de años de trabajo en conjunto, el GEP desarrolló un programa y un método de investigación internacional que conjuga, permanentemente, el análisis histórico de las "largas duraciones" y el análisis de coyuntura de los ciclos y eventos políticos y económicos, con base en una perspectiva teórica que privilegia el pensamiento clásico de Petty, Smith y Marx, además de Maquiavelo, Hobbes y otros autores que nos instigaron a pensar las raíces y dinámicas de la expansión del sistema interestatal y del capitalismo.
Tras 25 años, nace el PEPI como una derivación directa de esta "línea de investigación". Sin embargo, desde su implantación, el programa extendió sus fronteras, integrando, progresivamente, las áreas de investigación y disciplinas de Historia, Teoría Política, Relaciones Internacionales y Geopolítica. Así, mediante la interlocución de un cuerpo docente interdisciplinario, el acervo de ideas fue enriqueciéndose sobremanera y, como consecuencia, el campo de investigación del programa se amplió, incorporando temas como integración política y cultural latinoamericana, relaciones diplomáticas brasileñas, derechos humanos, entre otros.
Hoy, el PEPI tiene como propuesta propagar los resultados de sus investigaciones y multiplicar el número de investigadores y profesores capaces de ampliar el alcance del análisis teórico brasileño y la reflexión sobre la economía política del sistema internacional. Por consiguiente, su concepción académica se basa en una tríada indisociable conformada por las grandes áreas Historia, Política y Economía. El contenido teórico e histórico abordado en el curso tiene por objetivo fomentar un análisis político y económico internacional al mismo tiempo sistémico, dialéctico y estratégico.